Pastoral Ag is proud to be part of the drumMUSTER Program which provides a pathway to recycle all drums used in its range.
drumMUSTER is an organization supported by companies such as ours, that collects eligible plastic and metal drums at over 800 collection sites around Australia. The aim is to ensure less containers ending up in landfill, being burnt and provide a sustainable solution to convert waste to valuable resources, enabling sustainable farming for future generations.
Once collected the drums are processed and turned into useful products such as wheelie bins, cable covers, public furniture, road markers, construction materials and garden equipment.
All you have to do is triple rinse your eligible containers identified by the drummuster logo and take them to your nearest collection site.
Look for the drumMUSTER logo on product labelling: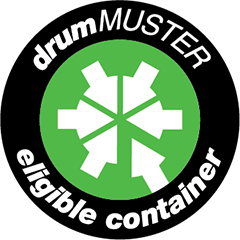 To find out more visit the drumMUSTER website and find your local collection point.