For the protection for up to fourteen weeks against strike by cyromazine-susceptible strains and organophosphate-resistant strains of blowflies (Lucilia Cuprina) when applied by jetting, dipping or dressing on sheep with long wool.
Active Constituent: 500 g/L CYROMAZINE
Available in the following sizes: 5L
Applicator: Hand Jetting Applicator or Dipping
Withholding Periods:
Meat: 7 days.
ESI: 21 days
Milk: DO NOT USE on sheep which are producing or may in the future produce milk that may be used or processed for human consumption.
Wool: DO NOT USE less than 2 months before shearing or fibre collection.
Storage: KEEP OUT OF REACH OF CHILDREN. Store below 30°C (room temperature), in original containers, tightly closed. DO NOT store for prolonged periods in sunlight.
Recycle containers via drumMUSTER Program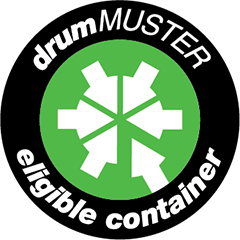 Dosing & Administration
Critical Use Comments:
For use on sheep more than six weeks after shearing.
Reduced effectiveness is likely if used on sheep with lumpy wool.
Jet at onset of blowfly wave.
When used on sheep with less than 6 weeks wool a reduced period of protection may result.
This product is not recommended for use in jetting races because reduced efficacy and/or a reduced period of protection may result.
Do not collect and re-use fluid which runs off.
Treatment
Initial charge
Topping up
Comments
Jetting
2 L per 1000 L
–
1. Jet at onset of Blowfly wave.
2. Apply 2 to 4 L of jetting fluid per sheep, depending on sheep size and wool length.
3. Ensure saturation to the skin.
4. Pay particular attention to treatment of the crutch, pizzles and polls.
Dipping (Plunge – Shower and constant replenishment)
2 L per 1000 L
2 L per 1000 L
1. Dip sheep on onset of fly wave.
2. Thoroughly saturate sheep. When using a shower dip, run top and bottom sprays independently so as to ensure maximum pressure and therefore penetration.
3. The product is a non-stripping dip so there is no need to reinforce during dipping.
Dressing
2 L per 1000 L
–
1. Clip the wool surrounding the strike, treat the struck area and the surrounding wool with a recommended knock down product then thoroughly jet the sheep with PASTORAL AG Cyrolab Liquid.
2. The product is a slow killing larvicide and when used on its own, larvae may take 3 to 4 days to die.